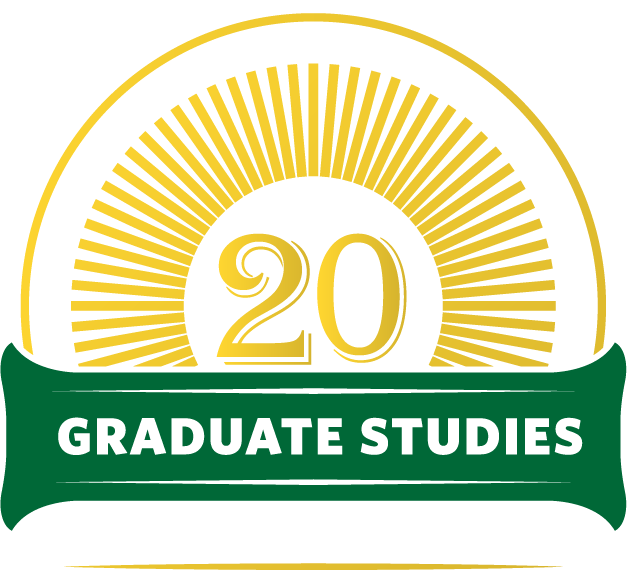 Graduate Studies Week - November 9-13, 2020 
Our graduate students and faculty have made SUNY Oswego a special place to learn and grow for over 70 years — Join us for a week long celebration of Graduate Studies at SUNY Oswego from November 9th to 13th.
We will be honoring our current graduate students and providing undergraduate students an opportunity to learn more about our robust graduate programs. Current graduate students can learn about how your education is being implemented in challenging times.  Gather to chat with faculty and alumni about their experiences.

All events are free and registration is encouraged. 

Did you know that individuals who express gratitude on a regular basis have higher levels of optimism, physical well-being, and determination? We recognize that these are essential qualities for graduate students.
In celebration of Graduate Studies Week 2020--join the Division of Graduate Studies in expressing gratitude to students, faculty, staff, family and friends by posting notes, photos and brief videos to our board.
View the Schedule and Watch the Event Recordings Below
Communication Matters: From Facebook to Tik Tok - Understanding the Influencers in the Social Media Environment and How to Stop the Spread of Disinformation
Pathways to a Career in School Psychology
Representation Matters: "I need Someone that Gets Me!" A Discussion with Mental Health Professionals of Color
Leadership Matters: Leading our Schools: School Safety, Cohesiveness, and Productivity Through Constant Disruptions
Lunch Break with the 2020 Graduate Diversity Fellows
Experience Matters: School Counselors Give Advice from the Field
Applying to Graduate School:  What do I Need to Know?
Research Matters: Biomedical Informatics Strategy in Combating Covid-19
Preparation Matters: GRE Tips and Tricks with Sharon
Excellence Matters: Celebrating Excellence in the Graduate Community
Faculty and students are encouraged to nominate our valuable campus community members for awards.
Deadline: November 5, 2020
The awards will be announced at the Graduate Studies Reception.
The Division of Graduate Studies is pleased to accept nominations from faculty and staff for Outstanding Graduate Student Award for 2020-2021. This award recognizes exceptional students for their significant contributions and accomplishments to their field, program, SUNY Oswego and/or to the community. Graduate nominees must be enrolled in a master's program or graduate certificate at the time of nomination. The submission should address what distinguishes this graduate student from others.
The Division of Graduate Studies is pleased to accept nominations from graduate students for Outstanding Mentoring Award for 2020-2021. This award recognizes outstanding support of a graduate student by a faculty/staff member. Nominees should exemplify excellence in dedicated mentorship to our graduate students and may include: sound advice, encouraging the best performance, generosity of time and/or assisting students to completion. Graduate students are encouraged to nominate mentors that have made an extraordinary difference in their lives. From these nominations, a committee will select recipients for this calendar year. All nominees will be notified and the winners of the award will be announced during the Graduate Studies Reception during Graduate Week.