Access campus maps, directions and parking information.
Maps and Directions
SUNY Oswego is located on U.S. Route 104, just west of the city of Oswego. If you are using GPS, the address is corner of State Route 104 and Sweet Road, Oswego, NY 13126.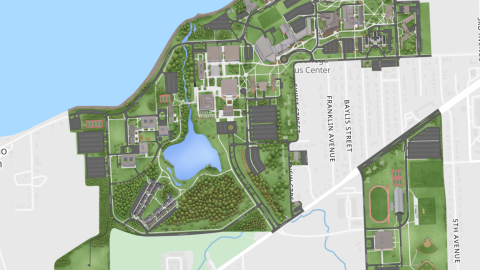 Interactive Map
View our interactive campus map.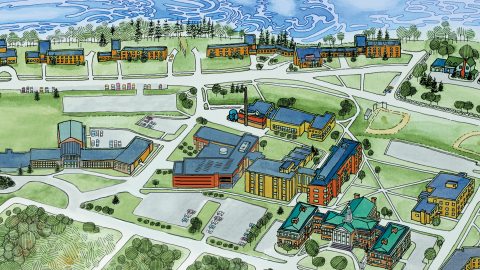 PDF Map
Download a printable campus map.
Undergraduate Admissions Parking

The college will send you an admissions permit before your visit. You will place on your dash. This will entitle parking on the date designated in all campus lots except spaces marked reserved. Sign up for a visit.
Graduate Admissions Parking
Other Day Guests & Visitors

Guest and visitor parking permits are available through Parking Services located on Route 104 just east of the college main entrance (315-312-3227). If Parking Services is closed, you can obtain temporary permits online.

A guest is someone who has no direct affiliation with the college but is invited by a recognized department or organization to provide a service or benefit to the college community on a single event basis. (ie. a guest lecturer in an academic class) Guest Parking Permits are free but must be requested in advance of the event.

A visitor is someone who has no direct affiliation with the college but wishes to visit or obtain a service or benefit from the college. This includes Service and Vendors. Visitor Parking Permits for small fee per day.
Transportation to Oswego
For out-of-the-area visitors, SUNY Oswego is located close to several public transportation hubs. Centro bus service runs regular routes between the SUNY Oswego campus and the William F. Walsh Regional Transportation Center (RTC) in Syracuse, which connects with air, rail and bus transportation.