The Laker Thrive Series is a new health and wellness initiative designed for all SUNY Oswego employees. This series offers a range of enriching activities aimed at promoting well-being and fostering community.
What to Know
All activities are free to all employees: Please note some events have a limited number of spots available.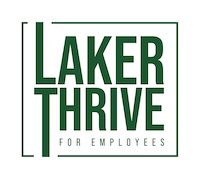 Eligibility: Every employee is welcome! Whether you're part-time, adjunct, temporary, non-state, from Auxiliary Services, Research Foundation, WRVO, or any other department, the Laker Thrive Series is open to you.
Rewards for Participation: Engage in at least 3 activities and complete the associated Google form to earn a stylish t-shirt or a water bottle.
Easy Tracking: Participation is made simple with electronic tracking. Whether it's scanning a QR code or clicking on a link, we've ensured a seamless experience for all participants.
The Grand Prize: For our most enthusiastic participants, those who engage in 10 or more activities and complete the Google form will have the chance to win:

A free membership to the Fitness Center and Lee Hall (5 available)
A pair of tickets to an Athletic Event (10 pairs, totaling 20 tickets)
Tickets to an Arts/Theater performance (5 pairs, totaling 10 tickets)
Towards better health and wellness!