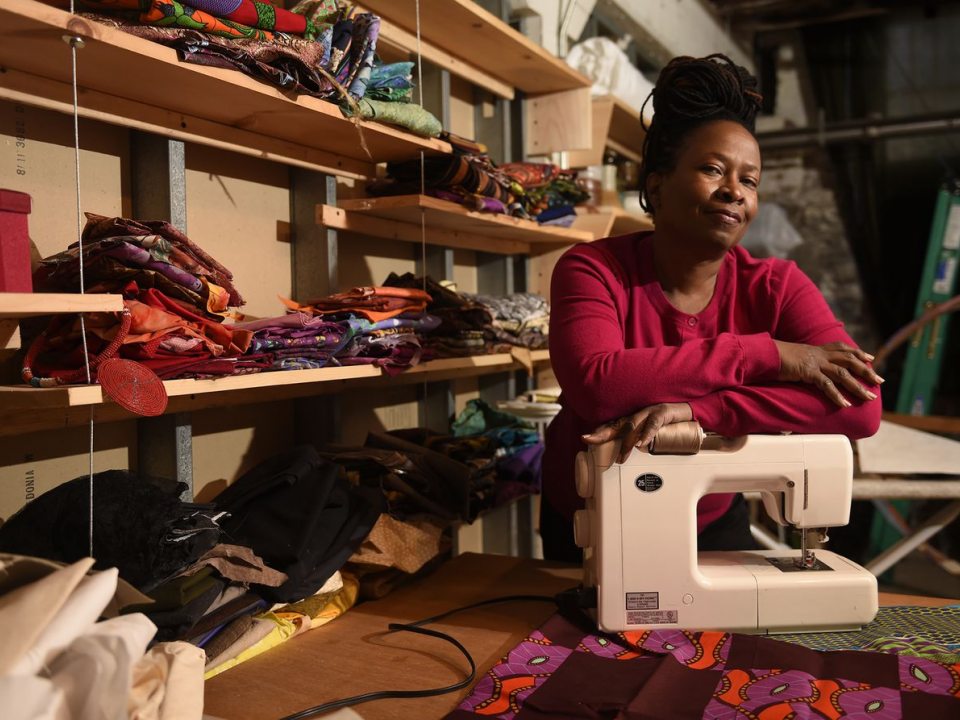 Ellen M. Blalock Artist Statement:
I am an artist with a mission. I believe my job is to be a conduit to listen and tell the stories of people that need to be heard and represented; the ones whose lives and experiences have been marginalized. I am particularly interested in the African American experience in the Unites States. Through my art, I have dealt with issues around African American teen fathers, slavery, female identity and power, LGBTQ families, deaf children, mental illness and trauma, and the ancestors. My job is to listen, to record, to make available the voices and stories of what is missing.
About the Project: ...While Black
. . .While Black is a site base installation using photographs, quilts and words that uses the bird as a metaphor to confirm, to remember and to honor stories and truths of the African diaspora with focus on the African American experience. This project is designed in stages to build the imagery of representation, the bird as metaphor, to embody past, present and future to portray Black bodies. Student and community participation will be required for the construction of a community quilt, and personal stories will be incorporated into dialogues. The ultimate goal of this project is to encourage empathy, openness and build a safe place for students and community to talk about racism and trauma.
Activities:
Artist Meet & Greet
August 31st, 12-1pm
Tyler Hall Lobby
Join us in welcoming our inaugural Artist-in-Residence, Ellen M. Blalock! Stop by to meet Ellen, hear about the project she is working on, and grab a bite to eat. All are welcome.
Community Quilt Workshops
Friday, Sept 17th 11am -2pm
Friday, Sept 24 11 am-2pm
Tyler 213, Open to all, Registration required
Come join Ellen M. Blalock and have fun making a quilt square for the community quilt project that will be on display in the Corner Gallery in Tyler Hall on the SUNY Oswego campus as part of the exhibition . . .While Black. Ellen is hosting two workshops to construct the quilt squares. We need your help, from beginners to advance quilters. You don't need to know how to sew. These workshops are open to the college community and the community at large. All materials will be provided and you can bring your own fabric. You may have a garment you want to cut up — bring it! If you are going to bring fabric pieces, you can bring any size, even down to 4 by 6 inches. You are welcomed to bring your own scissors and other sewing notions. The work is appliqué. The pieces will be glued, ironed or sewn together. Everyone will be given a numbered square (12" by 12") to design while following the pattern. You can also pick up quilt square kits with instructions and drop them off finished by the deadline.
Visiting Artist Series Lecture with Artist-in-Residence, Ellen M. Blalock
Wednesday, Nov 10, 7pm (tentative)
MCC Auditorium
The Visiting Artist Program offers the opportunity for students and faculty to interact with professional artists outside of the college, expanding student awareness of contemporary practice and providing connections and opportunities that may continue beyond the classroom. Ellen M. Blalock will discuss her career, practices, and work included in her upcoming exhibition …While Black.
Exhibition Details:
. . .While Black
January 24 - February 18, 2022.
The Corner Gallery, Tyler Hall
Reception TBA