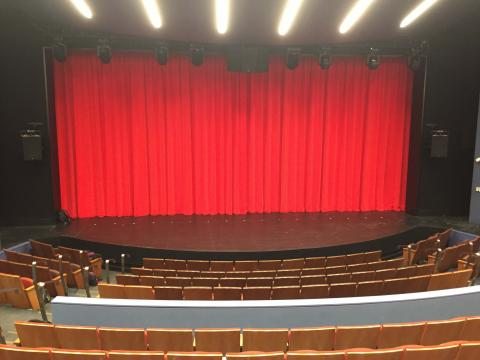 Select one of the venues below for more information:
Deborah F. Stanley Convocation Center/Ice Arena
This convocation center/ice arena hosts the Laker men's and women's varsity hockey teams, open skate for the college and community, intramural broomball, college figure-skating and hockey clubs, the Oswego High School boys' hockey team and the Oswego Figure Skating Club. The convocation center/ice arnea also plays host to concerts, speakers, Admissions Open House events and SUNY Oswego Commencement ceremonies along with a variety of other events.
Marano Campus Center Auditorium
The Marano Campus Center Auditorium has a seating capacity of 200. The auditorium has played host to a number of events such as speakers, comedians, movies and meetings. It is considered a smart classroom and has a computer, projection screen and a sound system. 
Is currently offline, under construction with an estimated re-opening in Fall '23. 
Laker Hall
Max Ziel Gymnasium is a 3,500-seat space located in Laker Hall. The gymnasium hosts men's and women's basketball, women's volleyball and wrestling games. The venue also host concerts, antique shows and other large events. 
Sheldon Hall Ballroom
Sheldon Hall Ballroom plays host to a variety of events. from the Ke-nekt Chamber Music Series and numerous student organization shows/dinners/events. 
Tyler Lab Theater
The lab theater is a 42-foot by 46-foot black box space in the lower level of Tyler Hall. The Lab Theatre is both performance space is used for student productions, rehearsals and small touring troupes and a classroom space for acting/directing/movement classes.  The black box theatre re-opened in the fall of 2020 after a complete renovation.
Waterman Theater
Waterman Theatre is a 426 seat, proscenium state of the art theatre space with hear loop capabilities.  The venue serves as the primary stage space for Theatre Department productions, touring ARTSwego artists, Music Department performances, Del Sarte, and student engagement activities.  Space is available for rent to community organizations, contact our venue coordinator Cole Sostak for details.
Wheelchair Accessible Entrances
Laker Hall: The north and south entrances of Laker Hall are accessible by wheelchair.
Deborah F. Stanley Ice Arena/ Marano Campus Center: All entrances are accessible by wheelchair.
Sheldon Hall: Accessible entrance is located at the North entrance of the building.  Elevator access will take patron to Ballroom level for event doors.
Tyler Hall: All entrances to Tyler are accessible by wheelchair.  "Stage Level"  and "Lower Lobby" buttons in the elevator will bring patrons to performance venues Lab Theatre/ Waterman Theatre