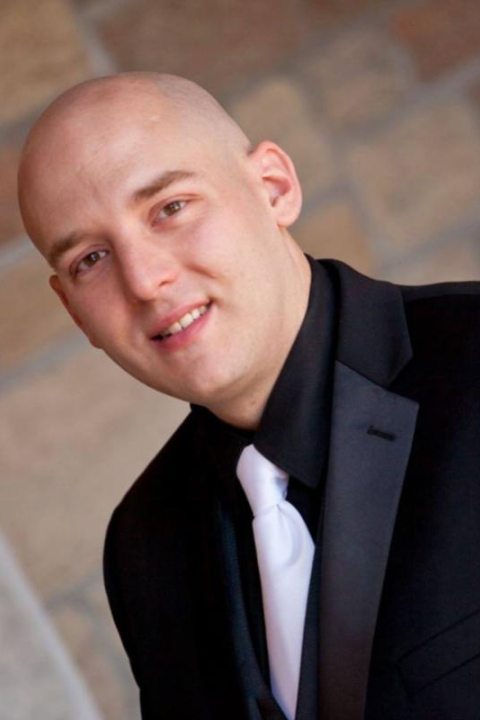 Ben May is Assistant Professor of Music and director of choral activities at the State University of New York at Oswego, where he teaches choral and aural skills classes. Prior to joining the SUNY faculty, Dr. May directed choral programs at Brazosport College in Lake Jackson, Texas and at James Bowie High School in Austin. He has served as music director for St. Timothy's Episcopal Church in Lake Jackson, Northwest Hills United Methodist Church in Austin, and Messiah Lutheran Church in Princeton, as well as directed the Houston Tidelanders barbershop chorus. He has taught courses in Aural Skills, Music Literature, Music Appreciation, Music Theory, Conducting and Rehearsal Techniques, Voice, and Piano. Dr. May maintains an active schedule of presenting clinics and lectures, composing and arranging choral music, and guest conducting choral ensembles.
As a conductor and teacher, May's interests lie in promoting contemporary postmodern choral music, using research-backed methods and current technology to inform choral pedagogy, and incorporating a diverse mix of musical styles in choral programs. In addition to singing choral music in the Western classical tradition, he draws upon a wide range of other musical experiences: playing trombone and piano, marching in drum and bugle corps, acting in plays and musicals, and singing barbershop, jazz, and country gospel.
May has sung in internationally acclaimed choral ensembles, including the Houston Symphony Chorus, Westminster Choir, Westminster Symphonic Choir, Westminster Kantorei Early Music Ensemble, Spoleto Festival Opera Chorus (Charleston), Moores School of Music Concert Chorale, and Chorus Austin's Chamber Ensemble. He was the baritone soloist for the Houston Symphony Chorus' performance at the 2019 Leipzig Bach Festival. Ben won the American Choral Directors Association's Raymond W. Brock Student Composition Contest while studying at Westminster. In addition to a number of self-published choral works, May's performing edition of Franz Schuber's Das Grosse Halleluja is published by Alliance Music, Inc, and his barbershop arrangements are published through Sheet Music Plus.
In response to the COVID pandemic, May organized and conducted a socially-distanced, technology-supported performance of the Requiem by Gabriel Fauré with the orchestra in a different venue than the singers. He has conducted David Lang's the little match girl passion with the Moores School of Music Concert Chorale, Ariel Ramirez' Misa Criolla with the Brazosport College choirs, and Benjamin Britten's Rejoice in the Lamb with the James Bowie High School choirs. He has prepared choirs for performances with the Houston Symphony, Texas Music Festival Orchestra, and Brazosport Symphony, and assisted with preparations for major world orchestras as an Instructional Assistant for the Westminster Symphonic Choir and as Rehearsal Conductor for the Houston Symphony Chorus.
May's high school ensembles earned consistent superiors at festival performances as well as UIL sweepstakes ratings, and they were featured at invitational performances throughout the greater Austin metropolitan area. His work on Evita in 2015 with the Starlight Theatre Company won Best Musical Direction and Best Ensemble in the Greater Austin High School Musical Theatre Awards, and his work on Miss Saigon in 2014 was nominated for those awards.
Dr. May is a member of the American Choral Director's Association and Phi Mu Alpha Sinfonia, and has formerly served as a region College Chair and region Website Manager for the Texas Music Educators Association.
Education
D.M.A. Choral Conducting with doctoral minor in Music Education, University of Houston
Dissertation: "Going Up to God by Musical Process: A Structural Analysis of David Lang's the little match girl passion (2007)"
Principal Teachers: Betsy Cook Weber, Jeb Mueller, Julie Derges, Rob Smith
---
Kodály Certification, levels I-III, Austin Independent School District Kodály Institute
Principal Teachers: Micheál Houlahan, Philip Tacka, Gabrielle Montoya-Stier
---
M.M. Choral Conducting, Westminster Choir College of Rider University, with distinction
Principal Teachers: Joe Miller, Andrew Megill, James Jordan
---
B.M. Music Theory and Composition, Vanderbilt University, summa cum laude
Principal Teachers: Michael Slayton, Michael Alec Rose, Michael Kurek, Stan Link, and Carl Smith (composition); Emelyne Bingham, Robin Fountain, Jamie Kirsch, David Childs (conducting); Jama Reagan (piano); Tracy Prentice (voice)
---
Classes Taught
Oswego State Singers
Oswego Concert Choir
Oswego Festival Choir
MUS 104 and 204 (Aural Skills I and II)
MUS 240 (Voice Class)