Ongoing
Oswego Outdoor Sculpture Initiative: 2014 - 2020
Comprised of six outdoor sculptures by regional and national artists and installed in a central campus location midway between Campus Center and Penfield Library. A variety of provocative works give a taste of trends in contemporary sculpture from organic to geometric.
TAG @ Tyler Hall Fall 2020:
Behind the Mask: Portraiture from the Permanent Collection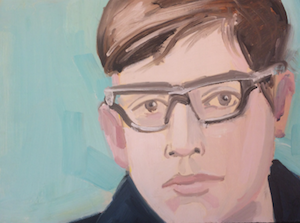 ALEX KATZ, Untitled, 1966
September 1 - September 26, 2020 
At a time where faces are viewed from afar or behind a mask, see "up close and personal" portraiture from the college's art collection dating from the 17th– 21st centuries. 
Tyler Art Gallery Hours
Wednesday–Saturday, 11am – 3pm
Closed Sunday-Tuesday, school holidays and school breaks
Classes and groups may arrange after hours visitation
Gallery visitation limited to 10 persons at any time
Mask-wearing and social distancing required