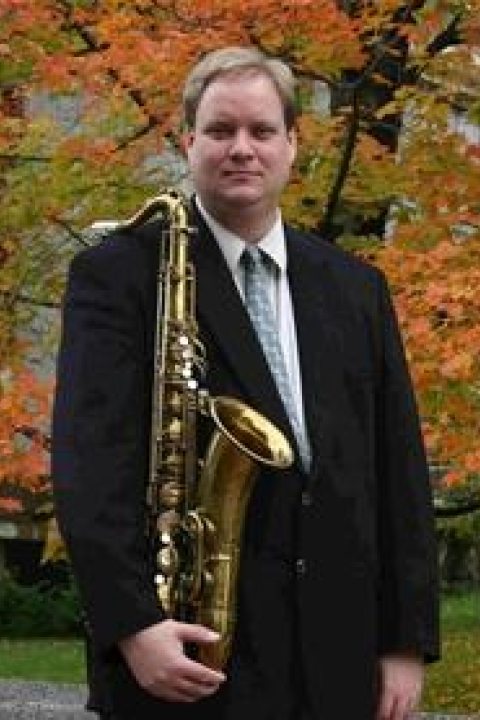 ASSOCIATE PROFESSOR of WINDS
Wind Ensemble, Applied Woodwinds, Winds - Area Coordinator
Contact Information
Tyler Hall 109 -Teaching Studio
315.312.2980
[email protected]

Office hours
Trevor Jorgensen is Associate Professor of Wind Studies at the State University of New York at Oswego, where he conducts the wind ensemble, teaches applied saxophone, clarinet, oboe, and bassoon, coaches chamber music and small group jazz, teaches conducting and lectures on popular music and jazz.
As a saxophonist, clarinetist, and bassoonist, he has performed with Dorian Winds, Imani Winds, Ying Quartet, Aviv String Quartet, Central Winds, Oswego Opera Company, Symphony Syracuse, Waterloo-Cedar Falls Symphony Orchestra, Central Winds and Northwind Quintet.
As soloist he has won the SAI American Composer's Concerto Competition, and Elmhurst College Jazz Festival Outstanding Soloist Award. An advocate for new music
Trevor Jorgensen has collaborated with composers George Tsonta-is, Jonathan Pieslak, Bora Yoon and Deon-Nielsen Price, performing Three Faces of Kim, the Napalm Girl with the composer at the piano.
Jorgensen is also versed in jazz and commercial music performing and recording with the Oswego Jazz Project, Michael Davis, Rufus Reid, Dave Douglas, Eric Marienthal, Charles Pillow, Larry Grenadier, Usual Suspects, Time Absolutely Jazz Combo, Jazz on Chicago Quintet, The Jorgensen/Hartman Jazz Duo, Powerhouse Rhythm and Blues, and Mother Blues and the Mojo Band.
Trevor has been invited as guest artist and clinician at several international universities and performance venues including Klášterec nad Ohří Castle, Teplice Conservatory, Masary- University, Pardubice Conservatory, Nové Mesto nad Metují Castle (Bedrich Smetana Festival), Hradec Králové University, Czech Republic; Seoguipo Art Center, Jeju Art Center, and Halla University, South Korea; Mussio Isaac Fernández
Blanco and Teatro Colón, Buenos Aires, Argentina; New Zealand School of Music/Victoria University of Wellington; and University of Cape Town, South Africa.
Formerly Performed with:
Highland Community College, IL
Freeport School District, IL
Northern Illinois University
Sabbatical Replacement
Music Appreciation
Education
B.S.: Music Education - University of Mary
---
M.M.: Saxophone Perf. - University of Northern Iowa
---
P.C. : Woodwinds - Northern Illinois University
---
ABD on his DMA in Music Education from Boston University
---
Teachers:
Conducting: Dennis Gowen, Ronald Johnson, Ronnie Wooten
Orchestral Conducting: Rebecca Burkhardt, Brian Groner
Saxophone: Thomas Barry, Stephen Duke, David Rachor, Les Thimmig
Clarinet: Gregory Barrett, Loran Eckroth, Jack Graham, Melvin Warner
Oboe: John Bentley, Ricardo Castañada
Bassoon: Peter Brusen
Flute: Peter Middleton
---
Classes Taught
MUS 117 - Introduction to Rock and Roll History
Director of Wind Ensemble
Applied Saxophone, Clarinet, Oboe, and Bassoon
Woodwind Techniques
Oswego Jazz Project