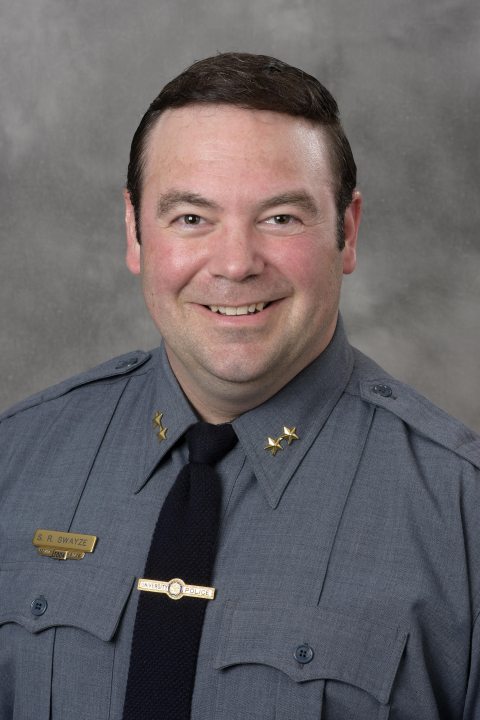 Chief of University Police
Contact Information
Chief of University Police Scott Swayze began his career in social work in 2002 and transitioned into law enforcement in 2004 as a municipal police officer that includes prior service in administrative ranks of Inspector and Assistant Police Chief. In his role now as Chief of Police, he oversees patrol, investigations, communications, parking, and the university's expanded Security Systems Division.
Chief Swayze earned a bachelor's degree in Elementary Education from SUNY Cortland with a minor in Public Administration, a master's degree in Environmental Science from SUNY ESF, and his Juris Doctorate from Albany Law School. Swayze has also served as a federal trial attorney with a focus on 8th Amendment cases, receiving recognition from the bar for his service to low income clients. Chief Swayze has published in national journals of the American Bar Association & maintains several state certifications including group crisis intervention, trauma informed victim response, social networking investigations, internal affairs, force science, police negotiation, and he is an O.F.P.C. certified Hazardous Materials Technician and a police academy instructor.
As an officer devoted to campus connection, his department focuses on programming and outreach like community cookouts, officer/student wellness, and "Coffee with a Cop." Swayze has emphasized training and development for officers relevant to our campus population including de-escalation, intergroup dialogue, mental health Q.P.R., healing circles, and principled policing.

.