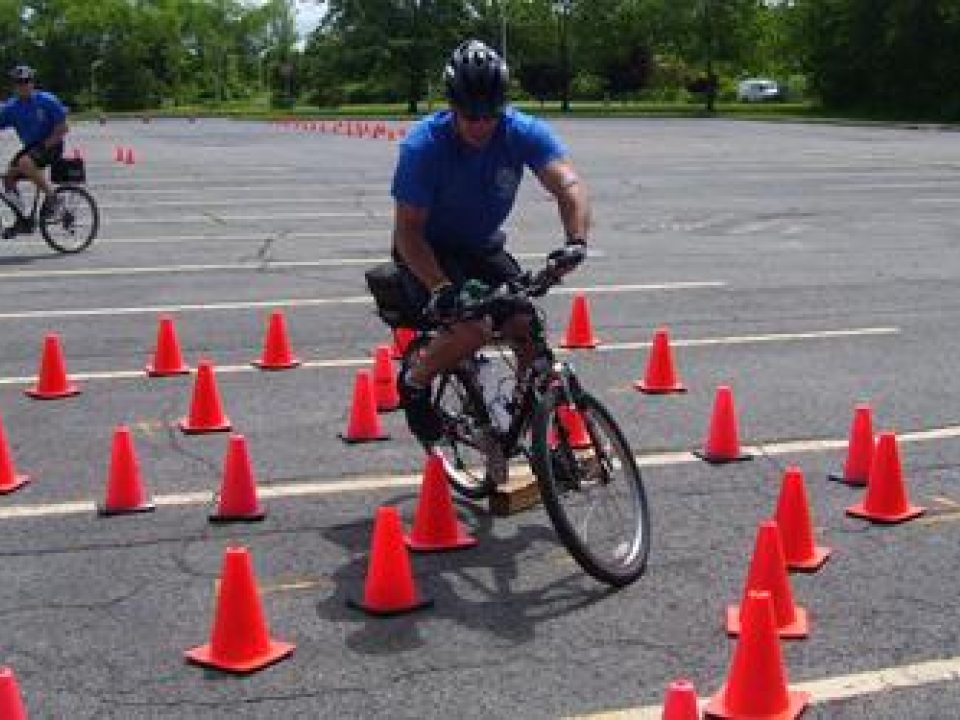 Bike Patrol Division
The NYS University Police at Oswego have operated a dedicated bicycle patrol since late 1993. The program was created by Lt. Kirk Coates as a pro-active addition to standard vehicular and foot patrols. The bike patrol has proven invaluable in the department's approach to community policing. The original patrol consisted of Lt. Coates and three officers. Currently, the bike patrol members are Lt. Dave Miller, Officer Sabin, Officer Bullard, and Officer Martin.
All bike officers are certified as police cyclists through IPMBA (International Police Mountain Bike Association) or through the New York State certification program. Both programs are 40-hour training sessions including bike familiarization, handling skills, basic mechanics, traffic safety, suspect contacts and a firearms course involving bicycle use. Three of the team members are New York State instructors. SUNY Oswego hosts this training on a yearly basis. The bike squad rides Trek Police mountain bikes and all riders have been outfitted in Olympic Uniforms by J. Marcel.
The University Police Department has found the bike patrol to be a valuable asset in community policing and crime detection. Officers have patrolled events on bicycle such as the City of Oswego's Harborfest. This festival annually draws an estimated 300,000 people to a city of 20,000 for a four day weekend in July. The ability to patrol on bicycles provided better coverage and ease of movement throughout the city. University Police have also been involved in the education of our youth in the form of Bicycle Rodeos showing proper and safe riding techniques and other in school programs in various school districts.
The University Police remind all cyclists to ride safely at all times and recommends helmet use on all rides. Lights at night are a must in New York. Fire them up and have a great ride! Any questions regarding safe cycling may be directed to 315-312-5555 or emailed to [email protected]. See more on laws pertaining to bikes and skates.