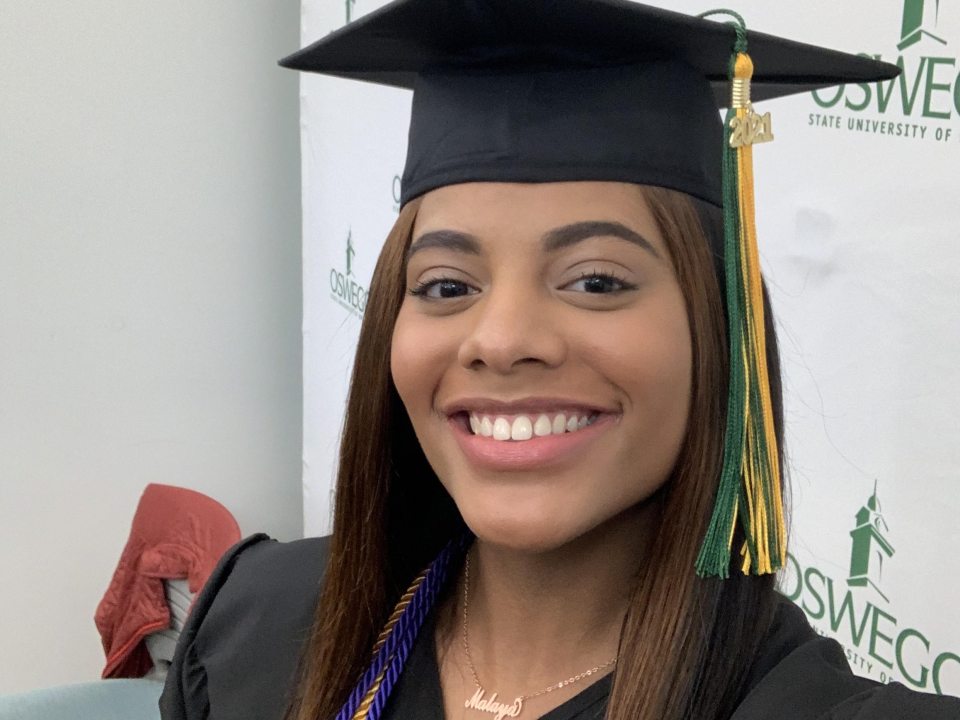 Class of 2021Human Development major
With her Oswego degree in hand, Outlaw will move to Seattle in June to work in Amazon's headquarters as a vendor manager.
"I was thrilled when I received the news that all of the hard work and stress I put into the hiring process eventually paid off," Outlaw said. "Nevertheless, I am both extremely nervous and excited about beginning this new chapter. I can only hope that all of my peers graduating as well are looking forward to the future with a brave face too."
Student involvement and making connections paved the way for the Brooklyn native's success and future journey to the Emerald City.
"I would surely say that getting involved on campus and creating open discussions and communication with your professors or advisors are of the most importance," Outlaw said. "It's important that you establish relationships or connections with others that you admire so that you are able to seek advice and mentorship if you should need it. Always remember that many here just want to see you succeed and that they are willing to make themselves available to you!"
Her outstanding academic accomplishments include winning the Dean's Writing Award for English 102 in October 2018, for a paper where she analyzed the relationship between comedy and race in the media.
The Office of Career Services, where she has served as an alumni outreach specialist and a student assistant, provided an avenue to gain knowledge and a network that will help her with what's next.
Outlaw expanded her horizons working with the Black Student Union, where she became co-founder of the organization's dance team for the organization, which she is happy to continue supporting after graduation.
"Throughout my four years here at Oswego, I have been fortunate enough to experience an array of people and places of which I never would've previously imagined," Outlaw noted, as "the opportunities I've had to be able to improve myself and others around me are all the worth the distance I've traveled."