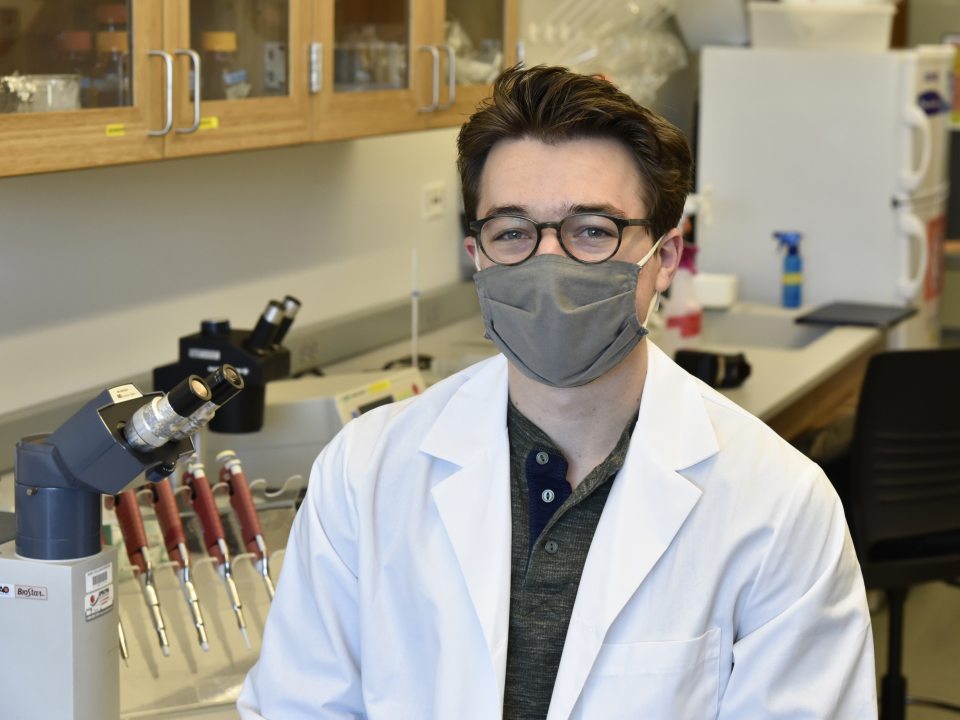 Class of 2021Biology major
The week after graduation, DiBiase is even getting married before relocating to attend a graduate physician assistant program at Barry University in Miami. The 27-month program will prepare him for his goal of becoming a practicing physician assistant.
For the winner of a SUNY Chancellor's Award for Student Excellence, it continues a pattern of excelling while also caring about making the world a better place.
DiBiase has worked on four projects with faculty members: exploring the effects of PCBs on freshwater mussels, studying the biochemical process of browning in apples, probing the anti-malarial agent artemisinin in the previously unstudied artemisia plant native to Western North America; and traveling to Brazil to research the potential effects of organic nitrates on alleviating hypertension in rats.
"The research opportunities and the faculty I've worked with have been amazing," DiBiase said.
He presented research at the national Sigma Xi conference and the regional Rochester Academy of Sciences Conference. The Possibility Scholar from Ravena has volunteered for the on-campus Student Association Volunteer Ambulance Corps and for Oswego Hospital. "I've always liked volunteering and helping others," DiBiase explained.
DiBiase participated in SUNY Stands with Puerto Rico, a summer experience helping inhabitants rebuild and recover from extensive hurricane damage, and alternative break activities at an HIV/AIDS clinic in New Orleans and in Washington, D.C., working with Food and Friends to deliver tailored meals to people with chronic illnesses.
He also has served fellow students as a peer advisor to first-year biology and zoology majors, a teaching assistant for an introductory biology course and secretary for the Pre-Health Club.
"I have always held an interest in healthcare and in one day operating in a position that is devoted to the welfare of others," DiBiase wrote in his personal statement. "Altogether, my interactions with patients and experiences with the demands and rewards of working in a healthcare environment have solidified my desire to become a physician assistant, for it is a role in which I know I can make resounding impacts in the lives of others."