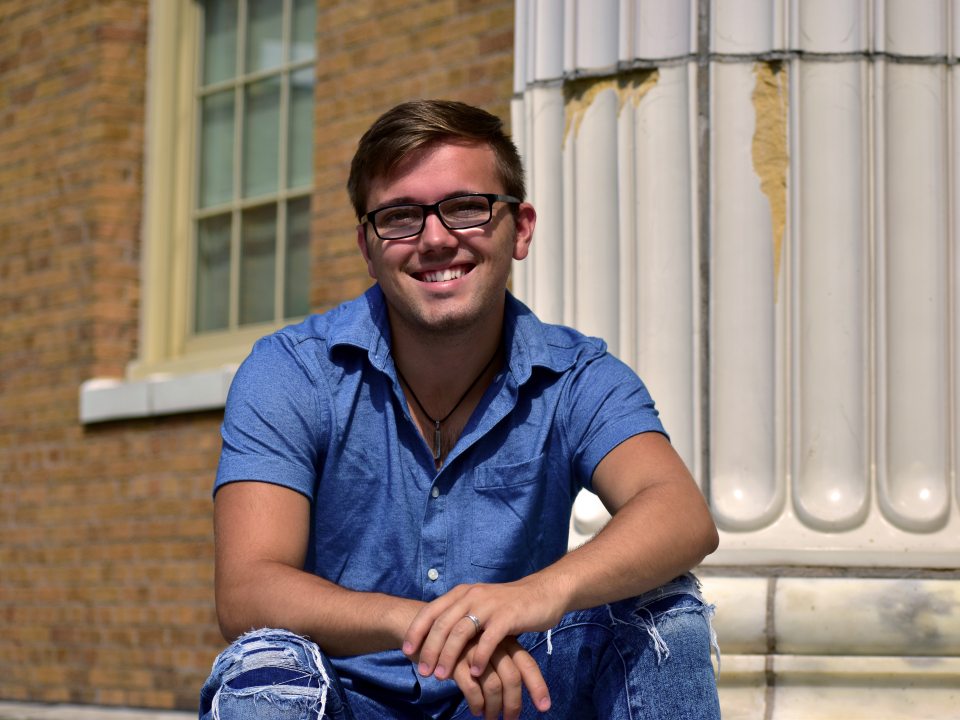 Class of 2021Studio Art major
Maier will continue his visual art journey by pursuing his master's degree in art from SUNY Oswego.
"I am taking the summer to really focus on my art and dial into my specific style," Maier said. "I want to focus on my sculptural work and develop skills to build bigger and better sculptures."
He also plans to return to working at the college's Tyler Art Gallery, as Maier did during his senior year, where he gained valuable experience helping put up all of the past year's exhibitions.
"Throughout my years at Oswego, I have accomplished so much more than I imagined I would across many aspects of my life," said Maier, who started as a psychology major with plans to become an art therapist and is now aiming to become a gallery director and artist.
"I had an internship at The Richardson Bates House Museum and an internship at Tyler Art Gallery," Maier noted. "Both of these have given me many of the skills needed for my future career."
Maier also submitted work to the annual Juried Student Art Show in Tyler Art Gallery twice, winning an award in the show both years.
"Another notable accomplishment is that I have my own photography show in Penfield Library on the 3rd floor," Maier said. "This is a solo exhibition of my nature photography, which will stay in the library indefinitely, so having this is a great resume builder and career opportunity."
The last sculpture that Maier created in his undergraduate career was accepted into ArtPrize, an international art show in Grand Rapids, Michigan.
"For my photography, I am now an internationally exhibiting artist, with my photography being broadcasted on 1,200+ screens across Dubai and Abu Dhabi, and being seen by over 300,000 people daily while the show is running," Maier said.
"Along with all of this, I am running my own photography website, bailey-maier.pixels.com where I use much of what I learned from my degree to market my work to the public," Maier added. "So needless to say, SUNY Oswego along with my family and friends who have supported me along the way, has given me the drive to reach for the stars with my career."
The natural surroundings for the lakeside campus has really helped inspire Maier and keep him going.
"Many times throughout my four years, I found myself lost, overwhelmed, and stressed out," Maier admitted. "Being able to retreat to the lake, or the woods to just walk around and clear my head was exactly what I needed to stay on track."
Campus offerings such as Career Services helped as well when he decided he wanted to pursue a new career path. "They aided in finding something that would fit me and made sure I had enough time to complete all the requirements I needed and still graduate on time," Maier said. "I also utilized the Alumni Sharking Knowledge (ASK) program to talk with an alum about questions I had relating to my future field of study."
In continuing his studies at Oswego, Maier knows that the resources and people can continue to help him find his future.
"In my master's degree program. I plan to take every opportunity Oswego will give me to further my experiences and build my professional marketability," Maier said.